Voice recordings, stories of spirit shenanigans greet those on 'Haunted on Broad' tour
Rome News Tribune Oct 5, 2019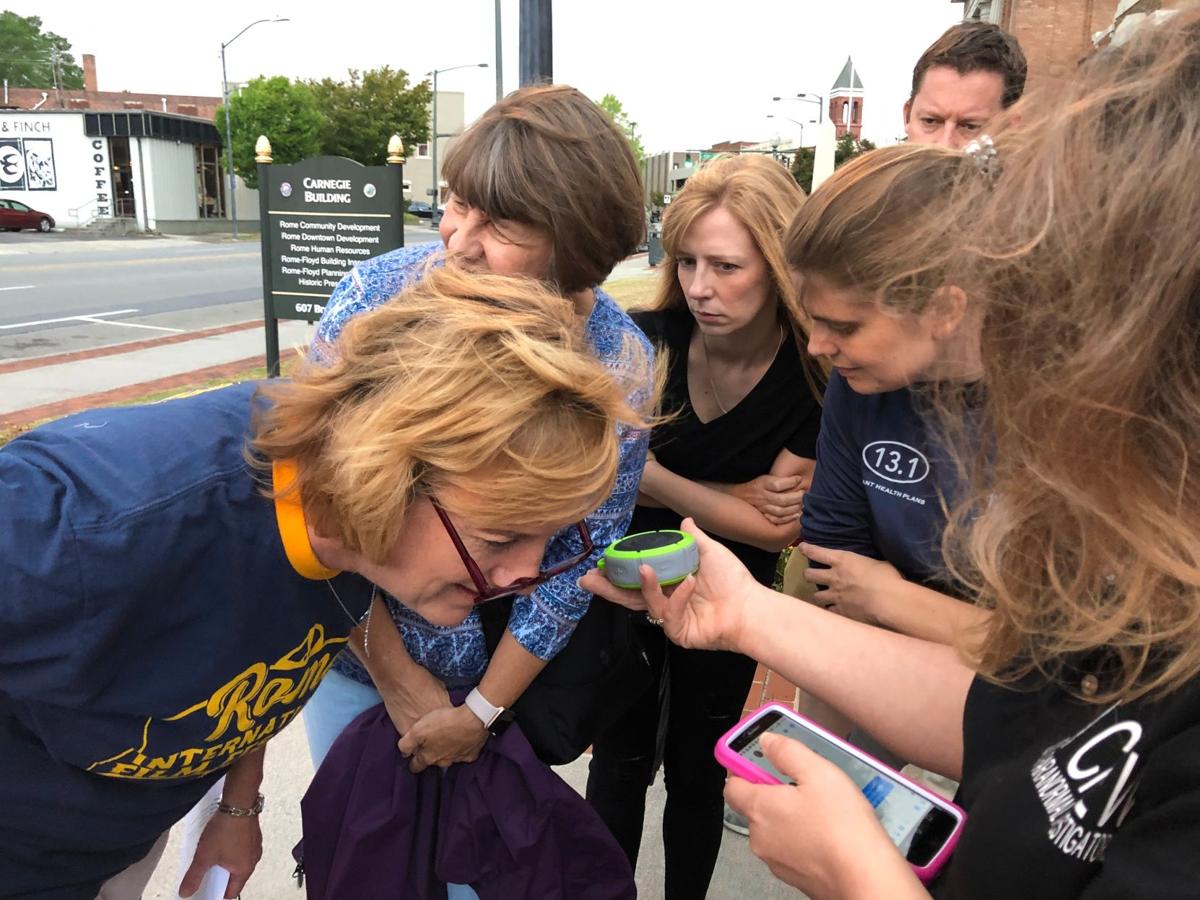 Haunted on Broad tour guide Beth Gibbons (left, front) joins those on her tour Saturday night who leaned in to hear the voice recording of what Southern Paranormal Investigators of Rome believe is the spirit of a young boy saying "Pay up." SPI captured the recording in the Carnegie building on Broad Street recently.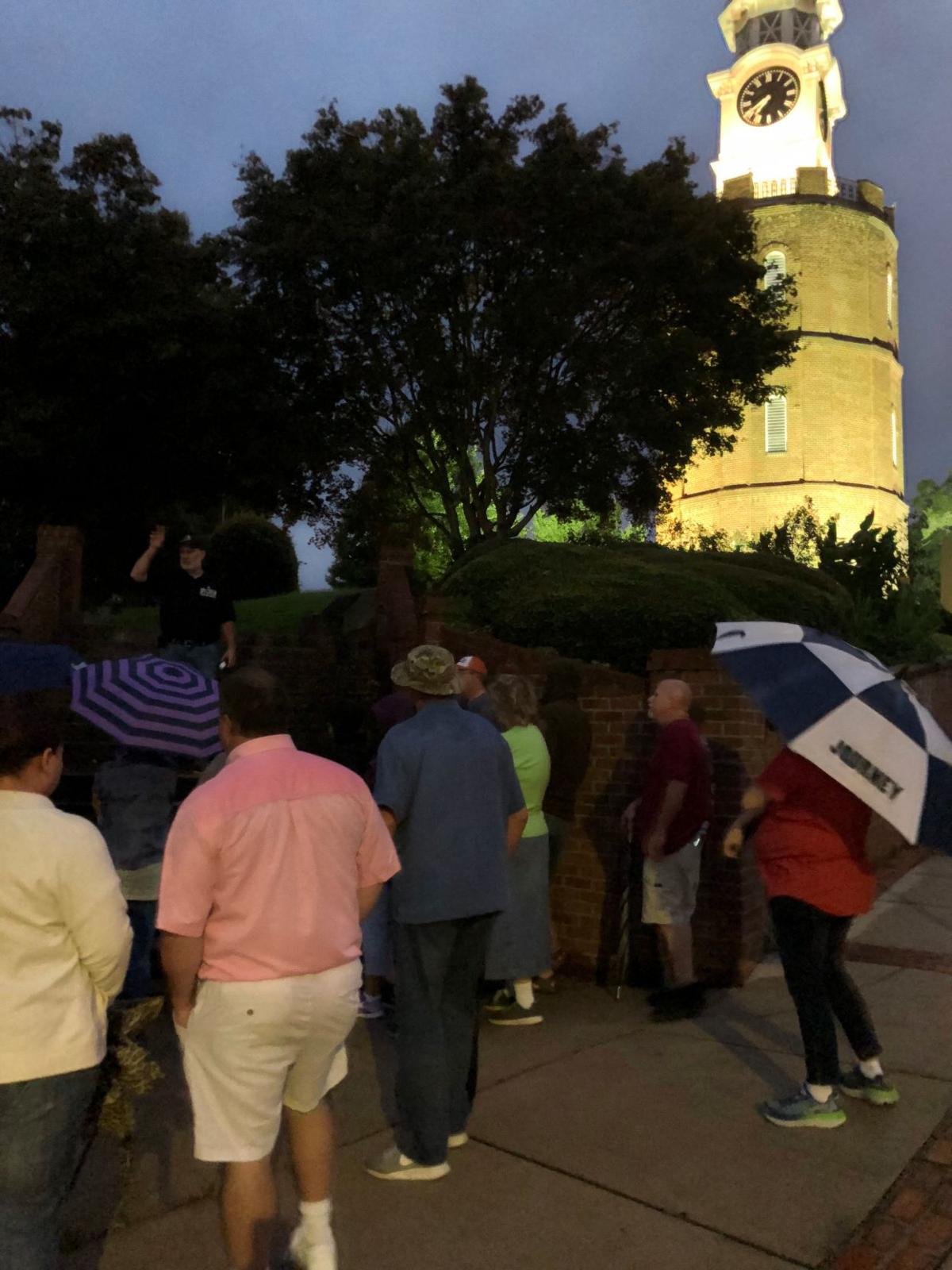 Southern Paranormal Investigators Founder Barry Caudle (on steps to left) shares the story with about 25 people on a Haunted on Broad tour Saturday night of how SPI heard unexplained knocking on the water tank at the Clocktower three months ago that culminated in a recording of what appears to be the voice of a young boy saying "You have found me.
They leaned in to hear recordings of the faintest of voices captured at the Carnegie building and at the Rome Clocktower within the last three months by the Southern Paranormal Investigators during a "Haunted on Broad" tour Saturday night.
They were 50 brave souls who heard stories of spirits knocking, crying, moving seats and whispering messages at various historical locations in the center of town with the help of SPI staff and those involved with a local storytelling guild.
"It sounded like fun," Kathleen Flatow said as the 90-minute trek started from the Synovus Bank building just before the sun set and the clouds released some rain. "I've done similar tours in Salem and in Canada and I figured it was a good chance to get to know Rome better."
What those previous tours did not have were actual Electronic Voice Phenomena. Even tour guide Beth Gibbons had not heard the recordings before.
At the Carnegie building next to Rome City Hall, SPI researcher Michelle Broadersen told the group SPI had spent several hours one recent night camped out in the building to hear knocking coming from the walls as their paranormal meters were continuously going off."You could hear feet shuffling around and others heard a women and child crying," Broadersen said. "Doors would open and shut twice while we were there. And we captured three EVPs." As Broadersen held out a small round recording device, attendees circled around her, pressing their ears as closely as they could to hear what appeared to be the voice of a little boy saying "Pay up." "That's a spirit!" Kelly Parnell said excitedly to his wife Allie, who remained a skeptic to the end. Parnell said he's been involved in paranormal investigations for the past eight years and is certain he's experienced his own encounters.
The group also was treated to stories of "Ruby," the spirit of the young movie fan who seems to be trapped inside the DeSoto Theatre, as well as a mysterious hanger-on in the Clocktower who SPI hopes to connect to a name soon. An SPI recording of the Clocktower spirit appears to be saying "You have found me" after SPI Founder Barry Caudle had first asked the spirit to knock twice on the water tank on command more than once and the ghost obliged. "He must have seen me put the recorder on the steps, because it sounds like he got right up to it," Caudle said of the spirit that could have been hanging around even as far back as 1871 when the clock works were built. "It was Rome historian Selena Tilly who first alerted us after she heard the knocking herself during tours of the tower."
© Copyright Southern Paranormal Investigators